EXTi
Artist Collaboration with EXTi (Santiago Cabezas)
Miami, USA
Argentinian artist
Santiago Cabezas is the visual artist a.k.a EXTi. His art is inspired by music and life experiences that drive him to create exclusive pieces, ranging from wearable art (such as sneakers, jackets, or bags), music instruments, to sculptures and original canvases.
EXTi's process is a whole experience itself, starting with listening to music and getting "a vibe" that he translates onto the piece he designs. He allows music and the universe to manifest colors, which he subsequently defines into a  palette he uses to bring life to his art. The drawings are improvised by music that inspires shapes and symbols.
EXTi formerly known as Thiago was born in Buenos Aires, Argentina. He is known professionally as a New York/Miami -based Latin Urban Pop artist, singer-songwriter, TV host, visual artist, and model. The name
EXTi comes on the heels of his recent re-branding, integrating his visual art with his music.
His wearable Art, is catching on with influencers and trendsetters across the industry. Thus, various artists have made their presence on Red Carpets, Award Shows and Live performances wearing and shedding the spotlight on their resonating EXTi designs.
His unique artistic process allows him to help musicians integrate music and visual art by creating art pieces based on the artist's specific projects.

EXTi's art pieces, by request, have made
their way to selected Art Galleries in Wynwood, Miami, while he is currently gearing up to manufacture and distribute his own limited edition of sneakers aimed to consumers while still customizing wearable art for his industry colleagues. 
One can hope to get their hands on the 1st pair of EXTEES.
DON'T JUST LOOK AT ART. BECOME ART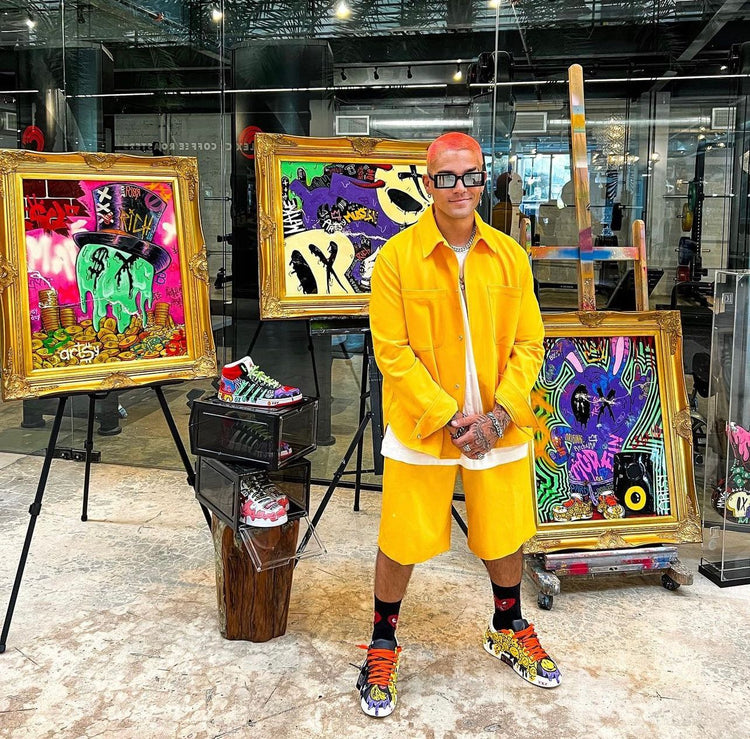 Selection of EXTi's Artworks